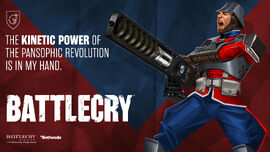 Backstory Edit
A royal engineer, aristocrat, and an absolute blue-blood. Bound by honor, he joined the Marines to avenge his paramour Samuel - who died in the WarZone during a brutal and chaotic defeat. Ainsley has vowed to never again let poor planning hold a team back, and has made a remarkable transformation from bookish scholar to master tactician. A London gentleman through and through, who is smart, arrogant, and cool under pressure.
Ad blocker interference detected!
Wikia is a free-to-use site that makes money from advertising. We have a modified experience for viewers using ad blockers

Wikia is not accessible if you've made further modifications. Remove the custom ad blocker rule(s) and the page will load as expected.