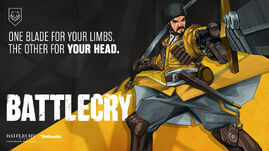 Backstory Edit
Dmitri is the brother of Ivan, the Cossack Ranger. As an orphaned boy of Colonel Bohdan's army, he was raised by officers. He has been fascinated with mischief and mayhem since boyhood, and his sabers are a natural extension of his body. He sees himself as the best, and is driven to prove it. Full of bravado, he shows no compassion for those he kills. A soldier's soldier, always ready with a funny one liner, and tries hard to be the center of attention.
Ad blocker interference detected!
Wikia is a free-to-use site that makes money from advertising. We have a modified experience for viewers using ad blockers

Wikia is not accessible if you've made further modifications. Remove the custom ad blocker rule(s) and the page will load as expected.